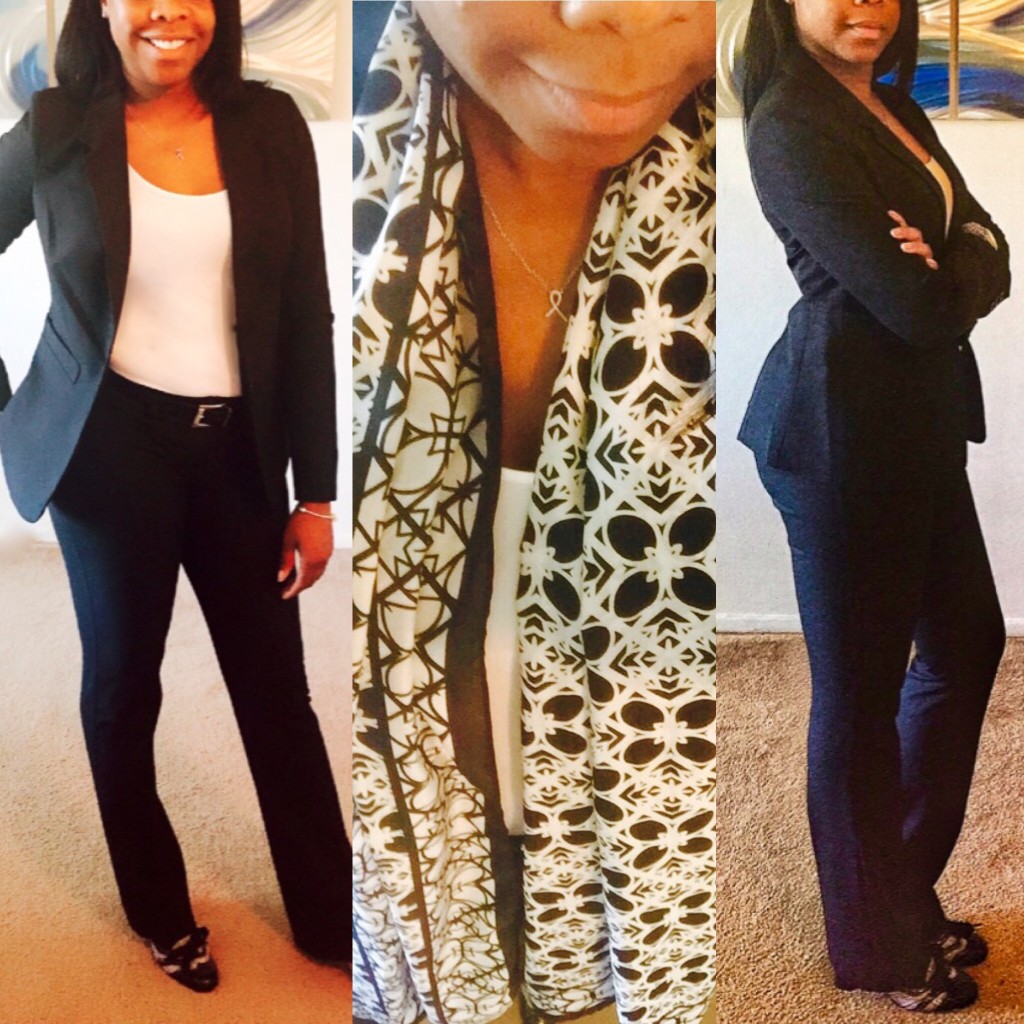 When I was younger, I always wanted to be one of those business women who wore suits. When I saw these ladies, I saw educated, power, respect, and class. It was my idea of how to dress for success. You can't go wrong with the classic black suit. I always say whenever in doubt wear a suit. I would rather be overdressed, than not appropriately dressed. Now that I am all grown up, its funny to say that I'm actually not that fond of wearing suits. Yes, I wear them when I have important meetings. So I do keep a few as a staple in my wardrobe. Because lets be honest, Its never going out of style. I do change up the fit, as times and bodies change. I would definitely invest in a suit as you never know when the time comes for you to wear one. As black is the safest color, but far from basic. I do own suits that are blue, gray, white and one with pinstripes. Wearing a pant suit can make you look strong or intimidating, but if your feeling that is too masculine of a look for you and need to soften up a bit.Try accessorizing as a way to dress up your look. As a suit can be boring to some. I styled my suit with a soft black and white scarf and shoes with subtle designs to give me a  little spunk. As you can see from the picture above. Need more, you can add color with jeweled broch, or necklace. The possibilies are endless.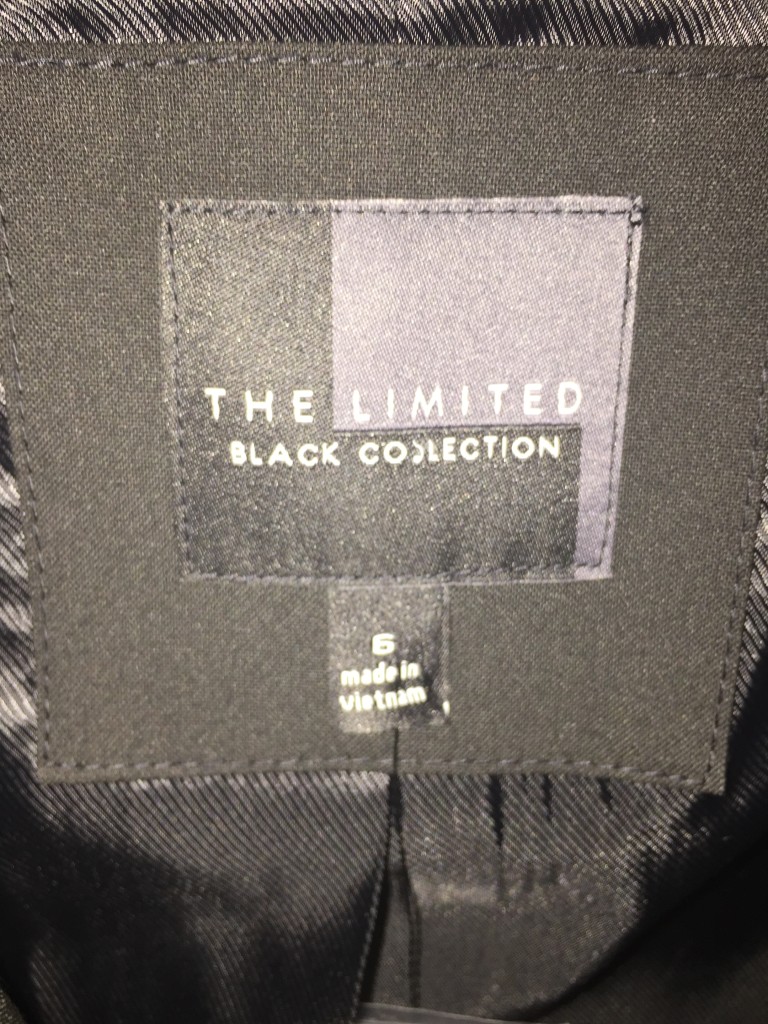 The Limited Black Suit Collection comes in variety styles of pants, dresses, skirts and jackets. So I am confident that you will find a fit apporpiate for your frame. What's also great about The Limited is that they can tailor your suit to be custom fitted.So, check out the site here for more info. Its a great work wear option and I am very happy I made this purchase. As you can change it up and wear them with as separates with other items in your closet. So tell me are you fan of the pant suit, leave me a comment below!
Thanks for visiting and I will talk to you soon!,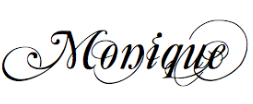 Hey There! So I wanted to share my love of the pencil skirt as well as my office space. During the day I am a
healthcare  professional. I meet with families, patients,case manager, social workers and physicians daily, either
in my office, hospitals or having lunch/ dinner at a restaurant. With that being said, I try to put together looks that
are professional and welcoming. During the warmer months you will catch me in more skirts and dresses. Im all
over the city, so I also like to be as comfortable as possible. I also like my workspace to be tidy,organized, smell
good and have pictures of the family to keep me motivated to do what I do.
Cleveland have some of the top hospital systems in the U.S. I will get into a little more depth on another post.
But trust me when I say being in healthcare is always an in demand position and rewarding if you get into for the
right reasons.
The pencil skirt is a definite go to and it allows me to add color and print without over doing it. They come in a
variety of modest lengths. My only challenge is my bum is quite curvalicious (is that a word) so it tends to poke out
a bit, but in that same breath it does the same thing with slacks. So I gave up. On this day, I paired this argyle skirt
with a black peplum top. Accessorize with a red necklace to add a little more color and I was out the door! Simple
and chic. My patent leather pumps have a thick solid heel so I can get around fast, without almost breaking my neck.
Check out these additional looks below from Banana Republic and The Limited. Tell me how do rock your pencil skirts?
|Peplum Top~The Limited (Similar) |Pencil Skirt ~ The Limited (Similar), New York And Co. (Similar),| Banana Republic (Similar)|
Talk To You Soon!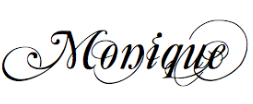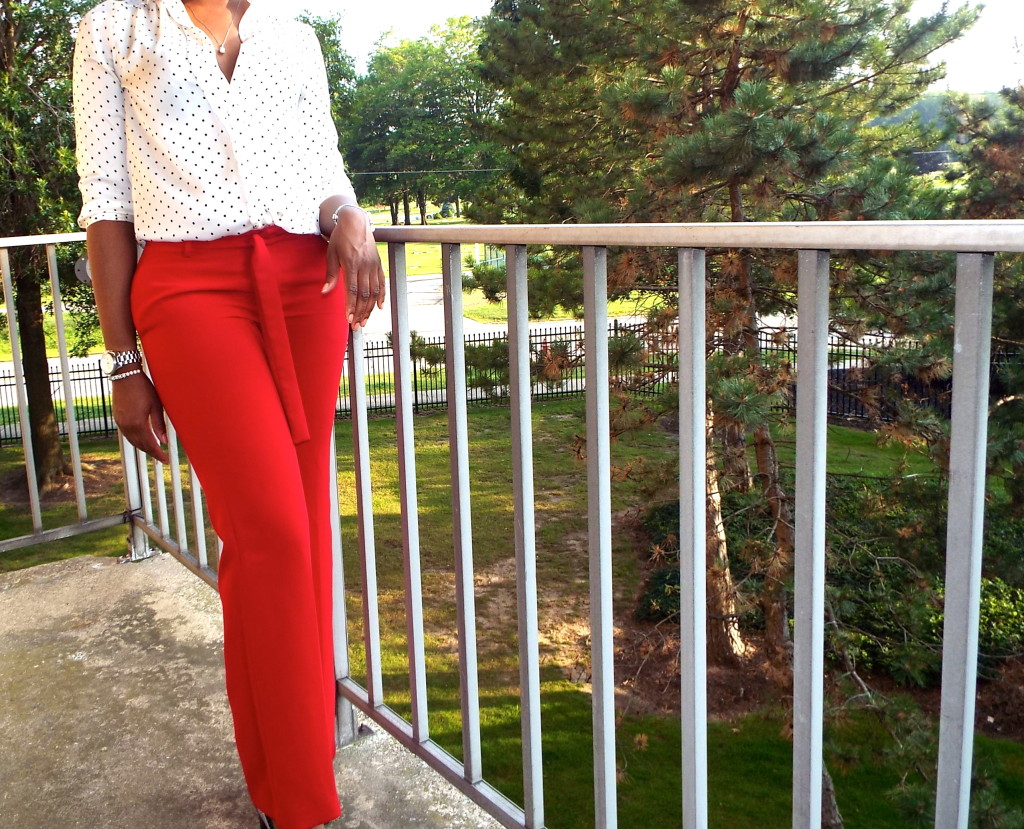 | Pant ~ Banana Republic | Shirt  ~ The Limited | Watch ~ Michael Kors| Bracelet ~ Pandora |
Going bold with brightly colored pants for my work ensemble is something I don't do very often. But I
have to say, I'm in love with these beauties from Banana Republic.From the color, to the fit, and the flow
of them when I walk. I paired them this day with a polka dot top from The Limited.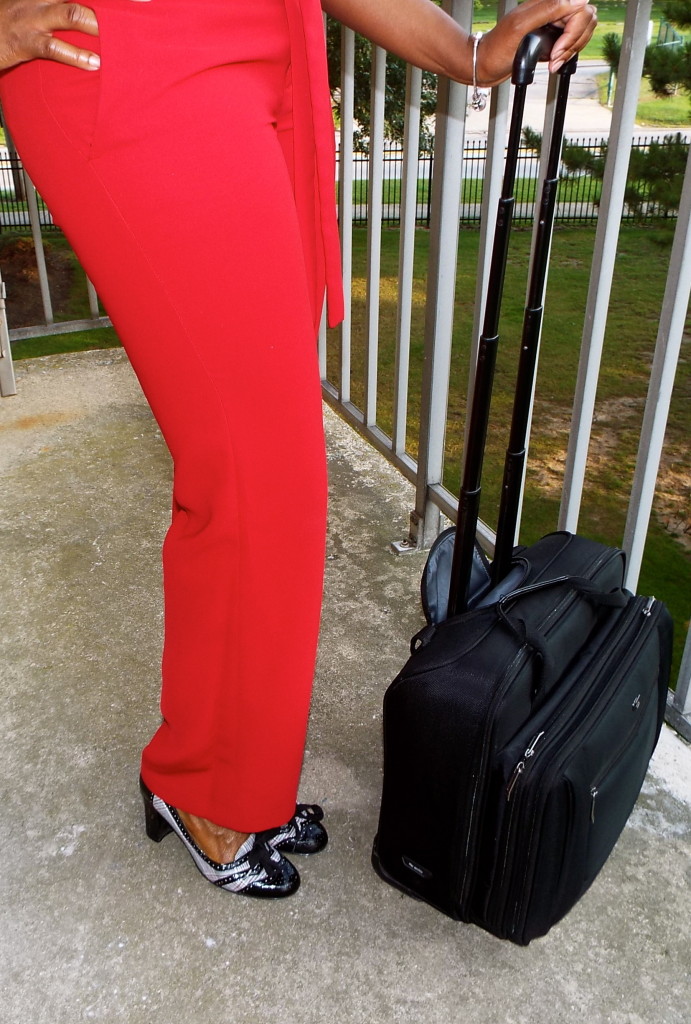 Options are endless when paring shoes with bold colors. Especially if you need to transition from a day
to night look.Do it with subtle changes. A shoe with a little dazzle makes all the difference.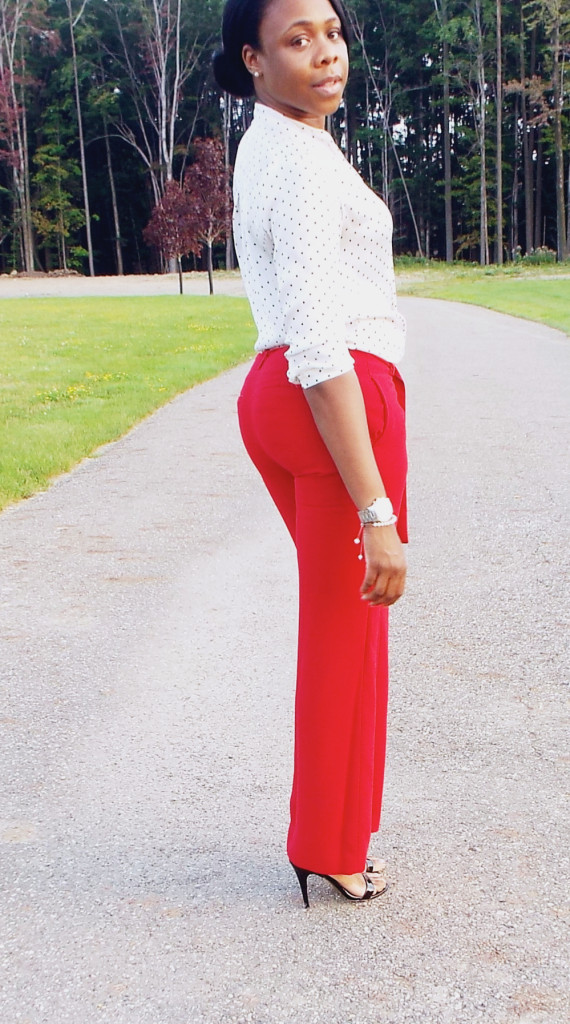 So what do you think? Too bright for work, or just right… Tell me your thoughts…leave a comment!
Talk to you soon,