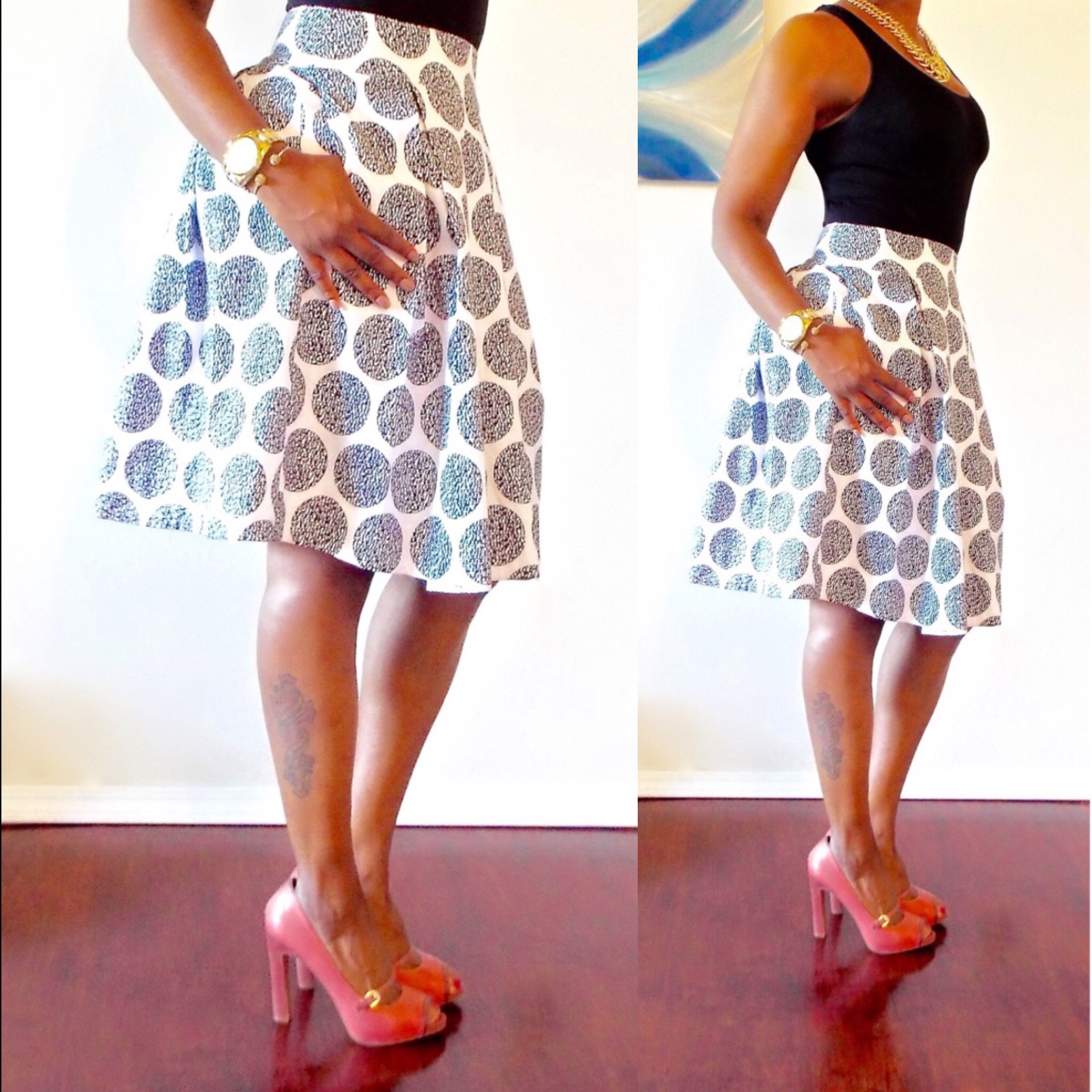 I must admit the midi skirt had to grow on me. I wasn't sure how the flare would look on me, since my bum kind of sticks out, lol. But every time I would see a too cute picture of someone wearing one. I knew I had to purchase one, which ended up being three. The one I am wearing from the pic above is from White House Black Market. It is the perfect length, I love the polka dots and the side pockets. These details fulfilled my fashion forward needs. The quality of the material is great, not too heavy. I added a plain black tank, and a pop of color with pink peep toes. Finally I accessorize with gold jewelry. Simple but fun, I feel super girly in this look. Which is needed as I am in professional wear during the week. I bought two other midi skirts from SheIn, which has multiple different options and the cost is a little easier on the bank account. I'm looking forward to sharing more looks with you in the near future. So tell me, are you a fan of the midi skirt and if so, what are some ways you complete the look? Leave a comment below.
Talk to you soon,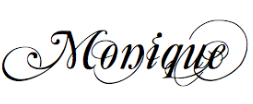 Hey There! So I wanted to share my love of the pencil skirt as well as my office space. During the day I am a
healthcare  professional. I meet with families, patients,case manager, social workers and physicians daily, either
in my office, hospitals or having lunch/ dinner at a restaurant. With that being said, I try to put together looks that
are professional and welcoming. During the warmer months you will catch me in more skirts and dresses. Im all
over the city, so I also like to be as comfortable as possible. I also like my workspace to be tidy,organized, smell
good and have pictures of the family to keep me motivated to do what I do.
Cleveland have some of the top hospital systems in the U.S. I will get into a little more depth on another post.
But trust me when I say being in healthcare is always an in demand position and rewarding if you get into for the
right reasons.
The pencil skirt is a definite go to and it allows me to add color and print without over doing it. They come in a
variety of modest lengths. My only challenge is my bum is quite curvalicious (is that a word) so it tends to poke out
a bit, but in that same breath it does the same thing with slacks. So I gave up. On this day, I paired this argyle skirt
with a black peplum top. Accessorize with a red necklace to add a little more color and I was out the door! Simple
and chic. My patent leather pumps have a thick solid heel so I can get around fast, without almost breaking my neck.
Check out these additional looks below from Banana Republic and The Limited. Tell me how do rock your pencil skirts?
|Peplum Top~The Limited (Similar) |Pencil Skirt ~ The Limited (Similar), New York And Co. (Similar),| Banana Republic (Similar)|
Talk To You Soon!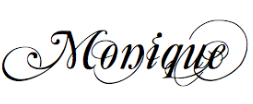 The weekend is here and its another beautiful day in Cleveland. Its been a long week for me in my lovely healthcare 
world. So when I woke up this morning with so much energy after some good sleep. I knew I needed to get up and get
out into the city and have some much needed fun. Its my way of trying to have some type of balance in my hectic life.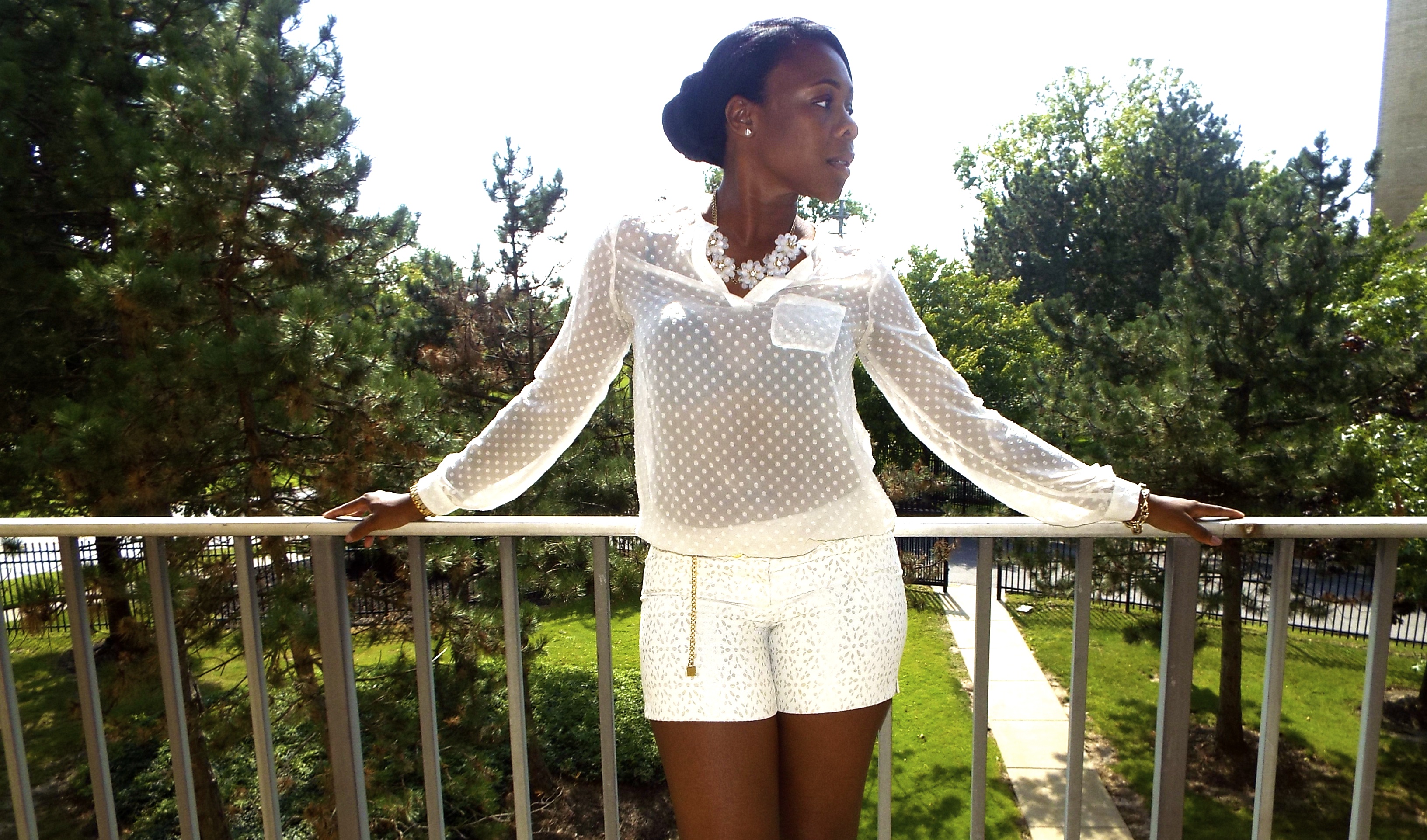 Summer is almost a wrap and I have not worn many of the shorts I purchased. So before all the nice days go away. I
wanted to make sure I get my moneys worth. Today outfit consist of these Eyelet Pattern Tailored Shorts from The Limited.
and I paired them with  a sheer dotted top also from The Limited. Its a pretty warm day and I needed something cool and light.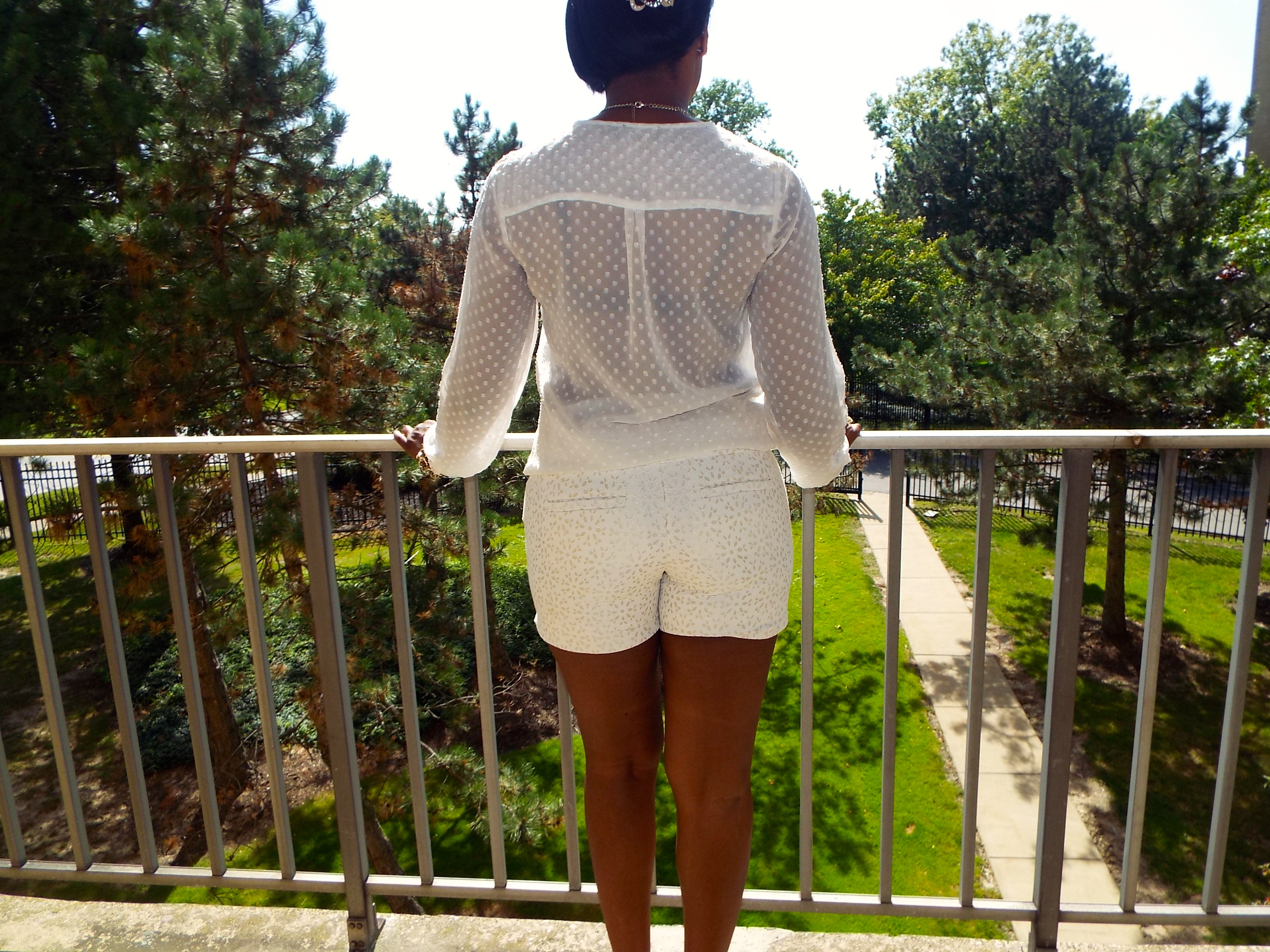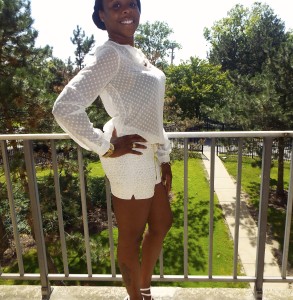 I really like these shorts because of the cute floral pattern. The length is perfect and  modest, no cheeks showing here!
I can opt for a pair of flat sandals for a fashionable casual daytime ready outfit or pair it was a stylish heel for my night
time look. Simple and chic, just the way I like it. The shorts are on sale right now..check out the link below. Thanks 
for stopping by and I hope you enjoy your weekend!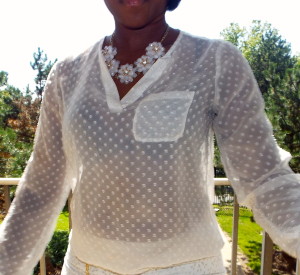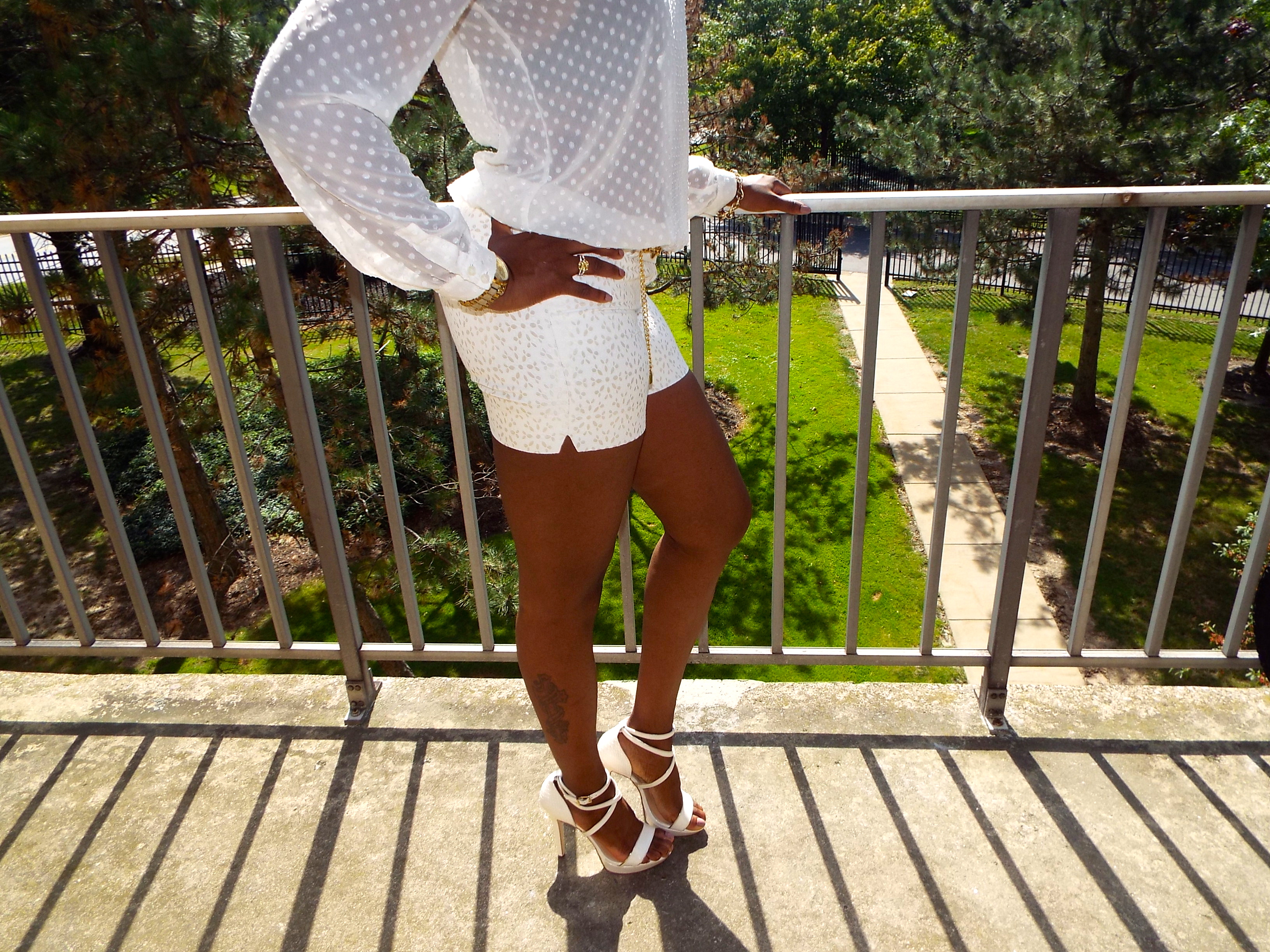 | Shorts ~The Limited| Top~The Limited | Necklace ~The Limited ~(similar) | Shoes ~Gianni Bini | 
Tall To You Soon,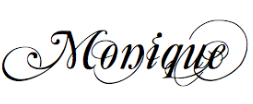 So this past June I took a trip to Las Vegas for my B-Day, and of course I was going to do some shopping, But
I knew I wasn't going to buy items that I can get right here in Cleveland. And I was pretty successful when I stop
by the Devanna Love Boutique. I left with quite a few pieces, but this was by far my favorite. A multi colored relaxed
2 piece jumpsuit. Which was fresh in, not even put out on the floor yet. Can you feel my excitement!
I love this outfit because it unique. The colored blend pops! The black sleeves and pin stripe down the side of the
pants are fabulous details. It has a relaxed fit, with a  draw string so that it is comfortable. Its funny because when I
first started to write this post I called it a jogging suit, which this is not. I was not jogging anywhere in this outfit. The crop
jacket shows off just enough skin to give off a little sexy. You can dress it up with a strappy heel and jewerly and be out
the door. There is nothing dull about this ensemble and I happy that I purchased it.
The boutique itself carries a wide variety of items, ranging from tops, pants, jeans, dresses, jackets, jewelry, shoes.
I'm sure you will find something you like. The young lady who helped me was great,even received a 20% off my
next purchase card. Definitely will be buying more items from here. To see more items (click here)  for thier website
or check their Facebook page out (here), I also follow the boutique and owner on Instagram so I'm not missing out
on any new items.So if you are visiting Las Vegas in the near future, go check out Devanna Love Boutique.
So what do you think about the jumpsuit Yeah or Nay? Leave a comment, tell me your thoughts!
Until Next Time,