Yes, I know its February and I'm late. But, It's never too late for well wishes and blessings. And always its never to late to make choices on how to make you a better you. I did a lot of thinking as everyone did at the end of the year as the clock struck 12:00 a.m. But I didn't want to put into the universe until I thought it through.  I have resolutions from 2015 I have not yet fulfilled But then again do anyone really hold on to their resolutions for the whole year. Some maybe, all probably not.  So as you can imagine I made new ones to try to obtain, because when we wake up every morning , its a new day and a free start to do you!  And I;m always going to keep moving forward. So here is what I am striving for in 2016….
Get Organized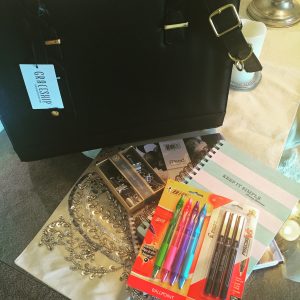 I always tell people I'm busy, I'm a multi -tasker (realized there is no such thing), I have too much on my plate. And I have to be honest. If I was better organized and managed my time more effectively things would be less hectic. So my goal is to keep it simple and I plan on doing that by de-cluttering my life. I did start this process last year in all areas of my life i.e relationship, my home, my spirit, and work. So I can spend more time with family and friends and overall be more productive. But its a work in progress! I will share my steps and progress along the way.
Reclaim My Weekend
There was a time in my life when I was a social butterfly. If it was happening I was there. That was over 5 years ago and now I feel life is all work and no play.  Don't get me wrong,  I worked my butt off over during  that time and I am a much better person and more accomplished. But now, I want more life experiences. See more, do more…Travel, catch up with friends over dinner, Spa days etc.. I don't like taking extended vacations just because I am afraid of what I will come back to you. So, I will be making the most of my long weekends and will try to have some fun, while putting the work phone down. Its time to stop researching trips and start booking them… So stay tuned!
Healthy Living
With a hectic work schedule, making time for yourself its a must. As much as I would like to be  mentally, physically and spiritually fit overall. I'm not. Do I get stressed.. Yes! Do I eat pizza, macaroni and cheese ,and sweets Yes!  Am I the weight I wanna be…no! These are all things I can work on and honestly they are not hard to do. But as I said early, my time management needs work. And its all about prioritizing. What I am doing is waking up everyday and giving Thanks!  I eat clean as much as possible and try to get some form of exercise daily, walking with a faster pace, taking the stairs etc.  I see what needs to be done and I am making the choice to do so. When this time comes around in 2017, I want to be able to say 2016 was an amazing year!
So tell me what are some your resolutions or lifestyle changes for 2016? Leave a comment below.