The weekend is here and its another beautiful day in Cleveland. Its been a long week for me in my lovely healthcare 
world. So when I woke up this morning with so much energy after some good sleep. I knew I needed to get up and get
out into the city and have some much needed fun. Its my way of trying to have some type of balance in my hectic life.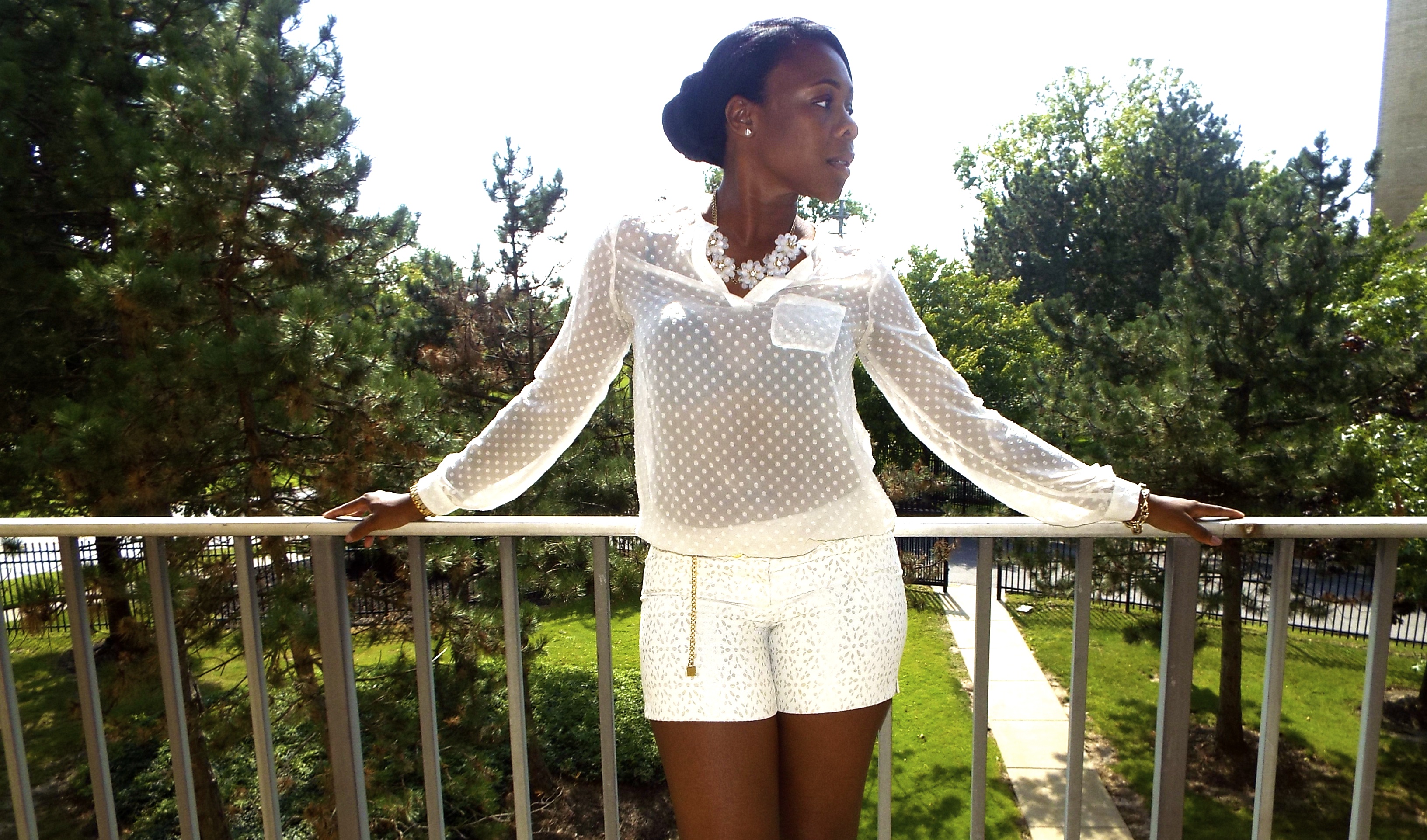 Summer is almost a wrap and I have not worn many of the shorts I purchased. So before all the nice days go away. I
wanted to make sure I get my moneys worth. Today outfit consist of these Eyelet Pattern Tailored Shorts from The Limited.
and I paired them with  a sheer dotted top also from The Limited. Its a pretty warm day and I needed something cool and light.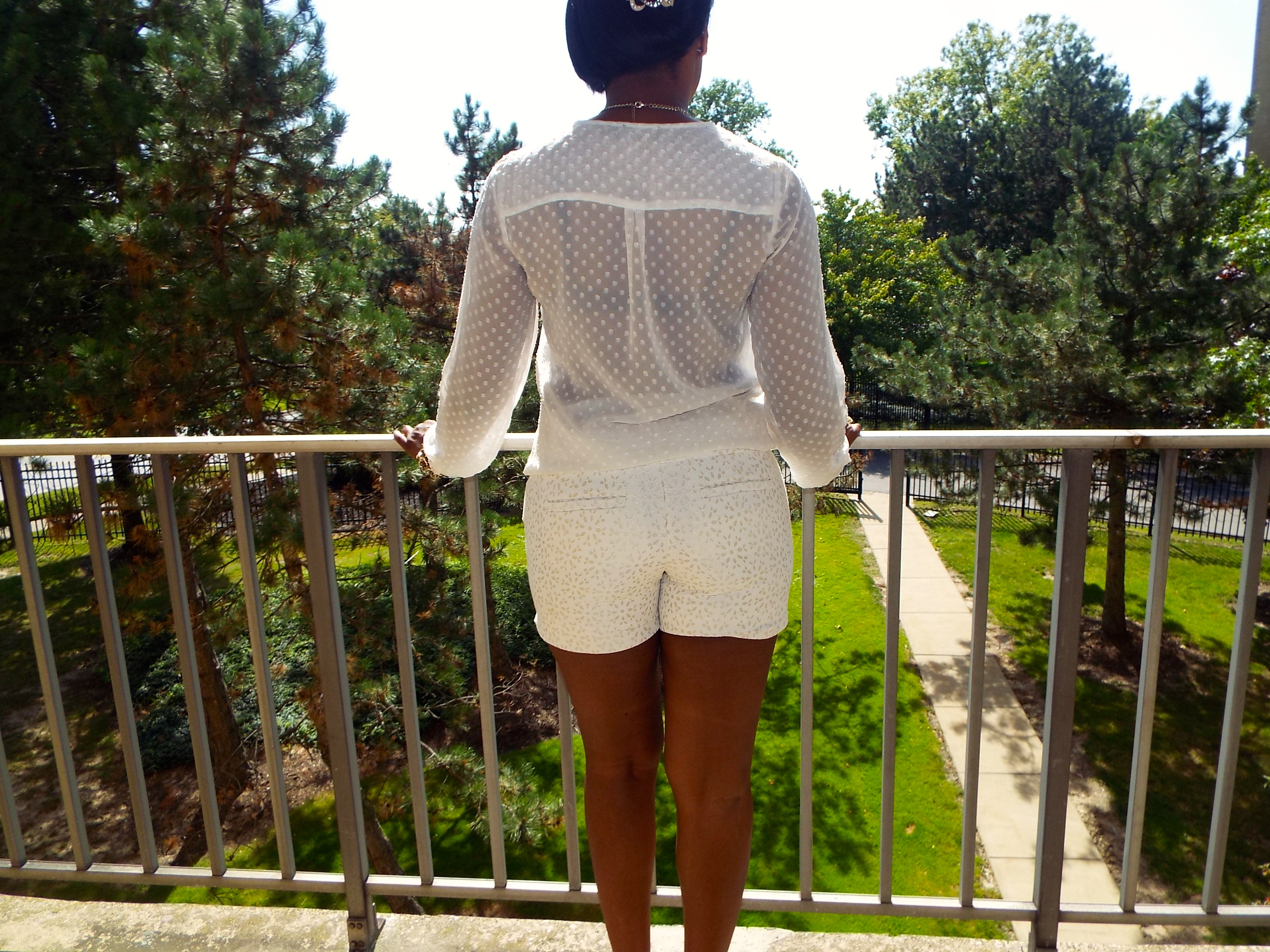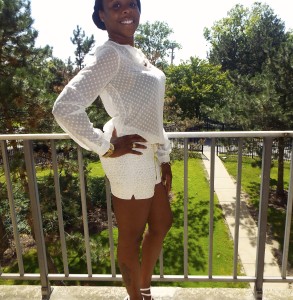 I really like these shorts because of the cute floral pattern. The length is perfect and  modest, no cheeks showing here!
I can opt for a pair of flat sandals for a fashionable casual daytime ready outfit or pair it was a stylish heel for my night
time look. Simple and chic, just the way I like it. The shorts are on sale right now..check out the link below. Thanks 
for stopping by and I hope you enjoy your weekend!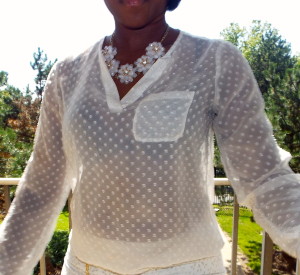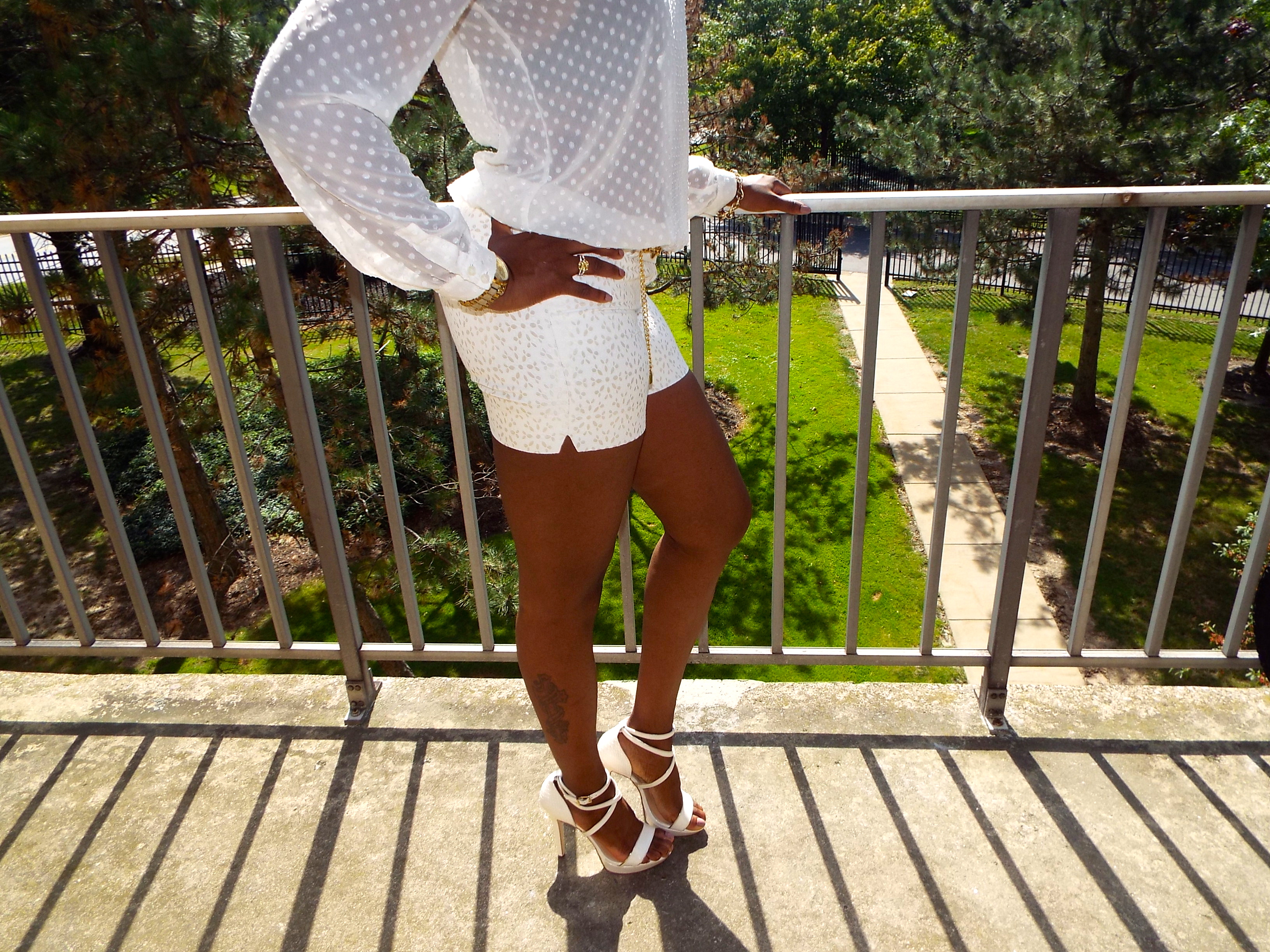 | Shorts ~The Limited| Top~The Limited | Necklace ~The Limited ~(similar) | Shoes ~Gianni Bini | 
Tall To You Soon,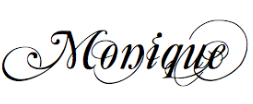 The glasshouse rainforest  was founded in 1930 as The Garden Center of Greater Cleveland, now called The Cleveland Botanical Garden are a must see while visiting or living in Cleveland.At least two to three times a year I visit the Botanical Garden to see whats new and exciting. Its alsoone of my escapes, when I need a getaway.  The gardens are beautiful and peaceful. There is something different here every time I visit.With a wide variety of educational opportunities for all ages and hands on learning will make your visit fun and interesting.With over 20 different gardens with radiant blooms in every color imaginable, and the many variation of plants and trees.You will be amazed if you are an experienced gardner of just someone who loves the look of flowers.It's so much natural beauty, the Rose and Japanese gardens are my favorite. There are also many beautiful fountains and ponds giving that relaxing and soothing sounds of water throughout the gardens. With so many sights, sounds and smells, your senses will be in overload.I love me some art and it always a nice surprise to see what sculptures are hiding in the midst of the gardens. Bringing the kids are always a good idea, but this summer they added the Nature Connects: A Lego Brick Experience.Where the sculptures depicting plants and animals were made with over 500,000 legos, and some weighing over 500 lbs. The sculptures are beautiful and visitors of all ages would appreciate the time and hard work that was put into each piece.Throughout the rainforest you can catch some form of wildlife crawling and flying around. Ranging from beautiful butterflies, tortoise, reptiles and creepy crawlers. I always enjoy myself here at The Cleveland Botanical Gardens, and I'm sure will to. For more info on visiting hours and special events click (here)
Until Next Time,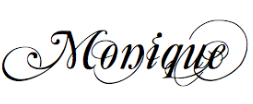 So this past June I took a trip to Las Vegas for my B-Day, and of course I was going to do some shopping, But
I knew I wasn't going to buy items that I can get right here in Cleveland. And I was pretty successful when I stop
by the Devanna Love Boutique. I left with quite a few pieces, but this was by far my favorite. A multi colored relaxed
2 piece jumpsuit. Which was fresh in, not even put out on the floor yet. Can you feel my excitement!
I love this outfit because it unique. The colored blend pops! The black sleeves and pin stripe down the side of the
pants are fabulous details. It has a relaxed fit, with a  draw string so that it is comfortable. Its funny because when I
first started to write this post I called it a jogging suit, which this is not. I was not jogging anywhere in this outfit. The crop
jacket shows off just enough skin to give off a little sexy. You can dress it up with a strappy heel and jewerly and be out
the door. There is nothing dull about this ensemble and I happy that I purchased it.
The boutique itself carries a wide variety of items, ranging from tops, pants, jeans, dresses, jackets, jewelry, shoes.
I'm sure you will find something you like. The young lady who helped me was great,even received a 20% off my
next purchase card. Definitely will be buying more items from here. To see more items (click here)  for thier website
or check their Facebook page out (here), I also follow the boutique and owner on Instagram so I'm not missing out
on any new items.So if you are visiting Las Vegas in the near future, go check out Devanna Love Boutique.
So what do you think about the jumpsuit Yeah or Nay? Leave a comment, tell me your thoughts!
Until Next Time,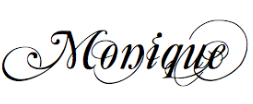 Yesterday I was enjoying the sites and sounds of Downtown Cleveland with my mother, getting in good some quality time. It
was a beautiful day, so why not take a walk and enjoy it. The city was filled with many new faces all visiting here for the
9th Annual Gay Games that Cleveland is hosting this year. The temperature was just right, and there was not one cloud
in the sky. So after an hour of site seeing, the hunger pains started to kick in…so now where to eat? We we came upon
A Soul Fusion Experience called StoneTown located on Prospect Avenue. While trying to peak through the windows, I
notice two well known soul food restaurant names on the window, that I have dine at before. If you are from Cleveland 9
times out of ten you recognize the names Angie's and Zanzibar.  After reviewing the menu which was displayed in
the window, we decided to give it a try.

So we walked in and was greeted by a hostess then seated. There are different seating options available.  We opted for
the 2 person tall tables.There were groups of 4, 6, and more dining this Saturday afternoon. So If you have a  large groups or
of if you just wanted to come in and sit at the bar, which is a nice size with all the top shelf brands they can accommodate you.
A very open space with so much natural light coming from the windows. Decor is simplistic and rustic. With motivational quotes
throughout the restaurant and pictures of the greats gracing their walls. Flat Screens were also through the restaurant with soulful
90's R&B playing in the background. So now what to eat?

Well let me say this first. I rarely eat healthy when I'm out. I do not cook fried foods often, so just imagine my delight,
when I saw Chicken and Waffles on the menu. Not just any waffles…. red velvet waffles, which was served with powered
sugar and  grits. I got mine cheesy. So my decision was easy. My mother opted for the fried chicken wings (4) and
Mac and Cheese. Now don't get me wrong, there are healthier options like salmon, salads or having your meat grilled
versus fried. But lets be honest when eating soul food who really wants to eat healthy. You can check out the lunch,
dinner and brunch menu (here). So here is my honest opinion. This was my first time eating chicken and waffles.
And I'm happy to say that my first experience was here. The food was great, I had no complaints. My mother felt her
wings were cooked a little to long and was a bit dry, but  the mac and cheese was one of the best she has ate before.
Will I come again…. Yes! I'm looking forward to try some of the other menu items.

I am a vino lover and was amazed of the beautiful display that was holding a huge variety of wine. So I will be back
at night to enjoy the bar and wine selections. And they have a Scandal watch party on Thursday, cant wait until the new
season start. Click (here) to visit there site and make a reservation!  Have you been here before, if so how was your
expierence leave a comment….
Until next time,